If you're anything like me, you'll love a scorching hot chilli pepper sauce, and you can't beat fermented 7Pot Brainstrain Yellows; they certainly pack a punch. These chillies can range between 800,000 and a million on the Scoville scale!


Adding Multiple Varieties of Chilli Peppers in a Sauce
If there's one thing I've learned in all my years of fermenting and making hot sauces, it's not to add too many chilli varieties into your sauce, as the unique flavour of each pepper can easily be lost.
Add or Remove Seeds from a Chilli Sauce?
Also, remember – you can choose to add the seeds to the fermentation or remove them; it's down to your personal preference. Leaving the seeds in will increase the heat slightly.
This recipe makes 1 bottle of chilli sauce, but you can adjust the ingredients to affect overall volumes.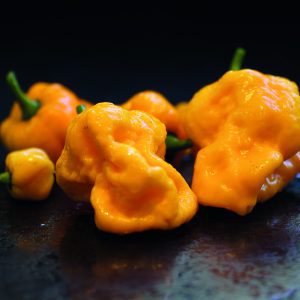 Print Recipe
Insanely hot fermented 7Pot Brainstrain Chilli Sauce
Equipment
1 Jar

Gloves

to protect you from the burn

1 Knife

1 Measuring jug

1 Measuring scale

1 Sieve
Ingredients
14-20

whole

Ripe 7Pot Brainstrain Yellow Peppers

depending on size

4

cloves

Garlic

5

grams

Salt

Kosher, Sea Salt or Pickling (for the brine)

205

ml

Water
Instructions
Preparing your fermentation
Select your jar – the bigger the jar, the greater the sauce volume.

Make sure to use gloves if you're working with hot peppers.

Firstly, peel your garlic cloves and add them to the jar.

Select your chilli peppers, rinse them and remove the stalks. Slice the peppers in half and decide if you're going to remove the seeds.

Add your peppers to the jar and squash them down.

To make your 2% brine, place your measuring jug on the scale, and add 205ml of water and 5g of salt.

Stir the salt to dissolve it into the water.

You do want to leave a bit of headspace at the top of the jar because this will ferment, which means that it will release carbon dioxide, and you don't want this overflowing.

You need to make sure that the peppers stay below the water's surface, which stops any nasties from growing on the top. You can use a cabbage leaf or an onion to squish your peppers below the surface.

Then you can use aplastic bag over the top and secure it with an elastic band around the neck of the jar.

Leave the ferment for at least two weeks at room temperature.

You can check on the ferment in a few days; you'll know that your peppers are fermenting as you'll be able to see the top of the bag has bubbled up, and bubbles are rising to the top. 
Making your sauce
Firstly, sterilize your bottle. You just need a big pot filled with water, put our bottle and lid in, and let it boil away for about ten minutes.

Strain the peppers to remove the brine, and take out the onion.

Place your drained peppers into a blender and blend. 

To thin down your sauce, simply add white vinegar. This will reduce the pH level and add a slight acidity to your sauce whilst retaining the fabulous colour.
Be Patient….this Fermented Chilli Sauce Gets Better with Time!
This sauce only gets better with time, so it tastes pretty damn good right now but leave it for a bit longer, and it mellows out, allowing all the flavours to come together. That doesn't mean the heat mellows out….but the "green" taste you sometimes get with chillies goes away!
Enjoy, and Stay Spicy!