Are the family tired of bland, boring dinner recipes, or do they love spicy food? By incorporating spicy food into your meals can make dinnertime more exciting and provide health benefits like vitamins A and C! This blog post will give you lip-smacking spicy dinner ideas that transform your family meals into fiery feasts.
Introduction: Surprise the Family with these Delicious Spicy Dinner Ideas!
Key Takeaways
Spicy food can provide health benefits, including boosting vitamins A and C.
Dishes like Piri Piri Chicken and Firecracker Chicken bring the heat and offer nutrient-rich ingredients.
Spicy seafood dishes like Spicy Prawns, Spicy Seafood Paella and Jambalaya are flavorful options that provide a range of health benefits.
Chili Con Carne and Crispy Chili Beef are delicious, spicy beef dishes with flavor and nutrients.
Spicy noodle dishes like Pad Thai and Spicy Ramen perfectly balance heat and savory flavors.
Explore the Recipes
Spicy Dinner Ideas – Chicken Recipes
Get ready to make dinnertime more enjoyable with these mouthwatering chicken dishes that will tantalize your taste buds!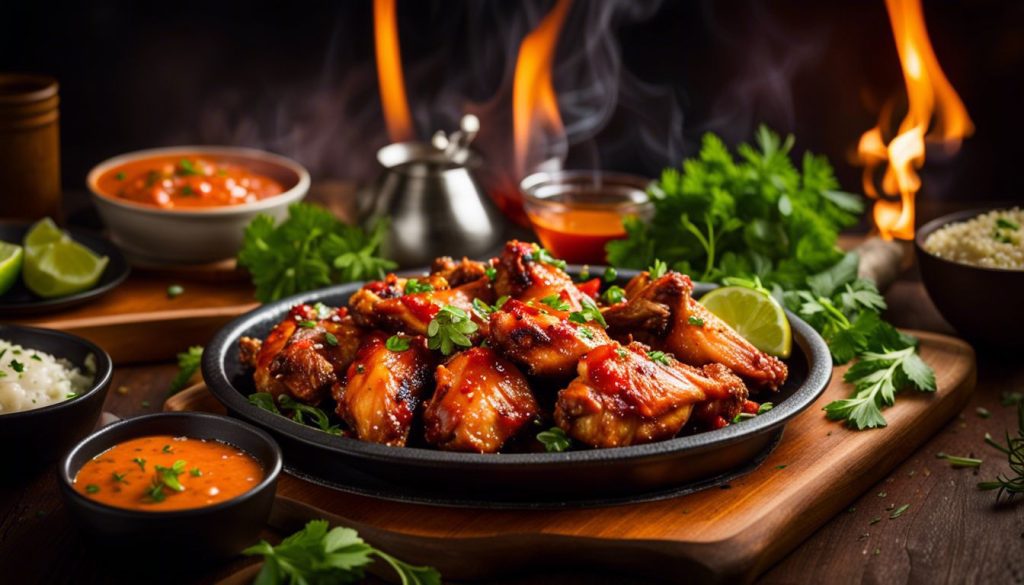 ChilliChump Chicken Wings (or Buffalo Wings)
Chicken wings are inexpensive and great for using some of your favorite hot sauces. But, the secret lies in the type of fat used for frying to ensure they come out crunchy on the outside and moist on the inside. Vegetable oil works, and animal fats like lard from a pig or beef drippings are highly recommended. Beef drippings are favored over lard due to the latter's strong smell during frying.
Start by melting the chosen fat in the deep fat fryer until it reaches the right temperature. Meanwhile, prepare fresh whole chicken wings by splitting them into three sections, discarding the tips. Dust the wings with flour to absorb excess moisture, ensuring a crispy exterior.
Once the fat or oil is ready, gently lower the coated chicken wings into the deep fryer. The sizzling will indicate that the moisture is being cooked out. After frying, let the wings drip a bit before moving on to the final step.
Now comes the fun part—choosing the hot sauce! Buffalo-style chili sauce is a popular and delicious option for buffalo chicken wings, but feel free to use your favorite. Now, mix some melted butter with the sauce, creating a mouthwatering coating for the best spicy chicken wings.
Once the sauce is ready, toss the crispy chicken wings into the mixture until fully coated. The aroma will be irresistible, making it hard to resist indulging immediately.
Piri Piri Chicken Recipe (like Nandos!)
Are you looking for a tasty hot baked or grilled chicken dish to add to your repertoire? Why not try this great recipe for Piri Piri Chicken. This fabulous dish, often reminiscent of the popular Nandos version, definitely turns up the temperature any day of the week.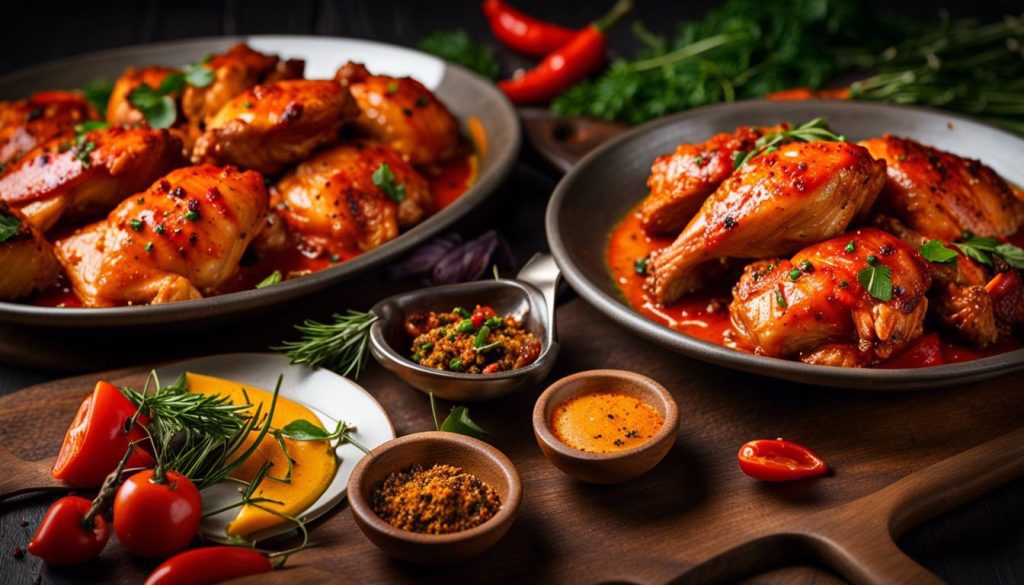 It's delicious and healthy, with tasty chili peppers and other nutrient-rich ingredients like beta-carotene and potassium! And you can choose the cut of meat – chicken thighs, breasts, wings, or whole chicken. So, don't be surprised if this becomes your new favorite recipe; it's undoubtedly a weekly staple in the ChilliChump household! It's also ideal for cooler evenings when you need something to warm you up.
If you opt for using the whole chicken, why not use the carcass to make your own hearty batch of chicken soup too?
Sweet and Spicy Firecracker Chicken Breast
Firecracker Chicken livens up your dinner table with a delicious spicy kick. This flavorful dish features tender chicken breast sautéed in a sweet and spicy sauce made from cayenne pepper and sweet and smoky seasonings.
The sweet-spicy combination might hit the spot for spice lovers while treating their taste buds to a unique culinary adventure.
As Greek chef Akis Petretzikis shared on the Yummy News blog, not only do spicy dishes like Firecracker Chicken turn up the weeknight dinner's flavor dial, but they're also packed with healthy nutrients. So enjoy this incredible recipe that is full of flavor while adding beneficial elements to your daily nutrition!
Spicy Tomato & Hot Chicken Pasta
Hot Chicken Pasta is a simple pasta recipe you can enjoy anytime – lunch or dinner. Making it a great choice for an easy meal if you're looking for a plate of comfort food.
So, whether you're feeling rough, struggling with the winter weather, or just looking for a filling dish, this could be a great contender.
The beauty of this delicious and easy recipe is that you can add just about anything you want to it. Stir-fry some veggies, and add in your chicken and tomato sauce. Lift the flavors with fresh chilies and throw in your pasta once it's al dente. The result – a simple dish that always hits the spot!
Kicking Chicken Tacos with Fresh Jalapeño
For a fun dish you'll love, spice up dinnertime with some delicious Kicking Chicken Tacos! These flavorful tacos are a perfect combination of heat and taste. The chicken is seasoned with a blend of spices like cumin, chili powder, and paprika, giving it just the right kick.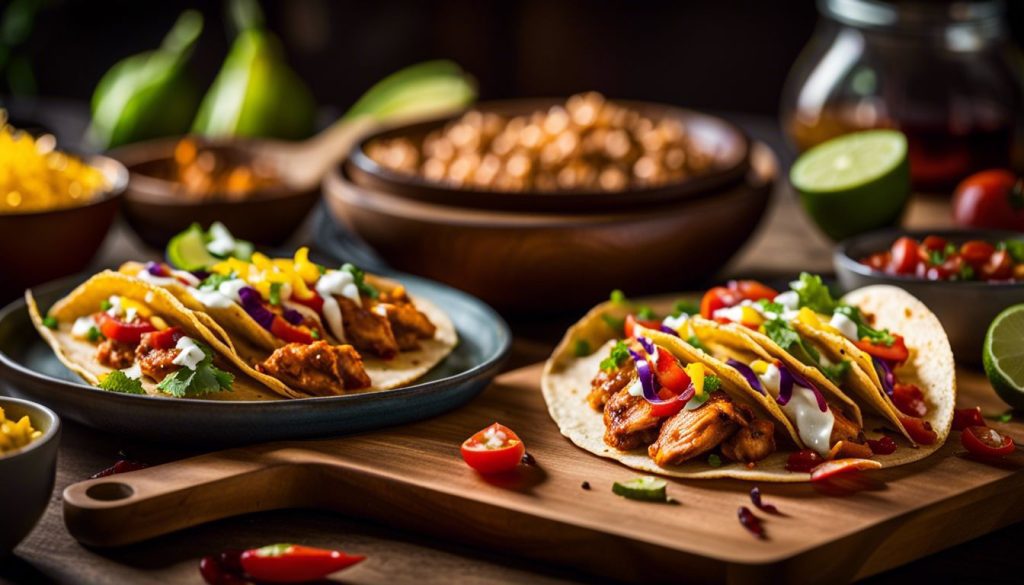 Be sure to top it off with fresh toppings like avocado, cilantro, a squeeze of lime, and fresh jalapeños for added flavor. And, you can also add a little chili sauce to your tacos, and chipotle is a great choice for this fresh dish.
These tacos are incredibly tasty, and the chilies offer other health benefits. And the added benefit, spicy foods can help boost metabolism and reduce certain health issues due to their high nutrient content.
Easy Spicy Dinner Ideas – Seafood Dishes
Spicy Grilled Prawns, Spicy Seafood Paella, and Jambalaya are just a few seafood dishes you can try. If my wife could get away with it, we'd have prawns every night of the week!
Spicy Grilled Prawns
These succulent spicy seafood delights are perfect for those who enjoy a bit of heat in their meals. Whether grilling, sautéing, or adding them to a curry, spicy prawns (spicy shrimp) make for an exciting and satisfying meal.
They are packed with flavor, are generally an easy dinner option, and offer a range of health benefits. And, of course, prawns are high in nutrients like calcium and vitamins A and C, making them a great addition to any diet.
Spicy Seafood Paella
Why not try our Spicy Seafood Paella Recipe? This flavorful Spanish dish combines a variety of seafood, such as prawns, shrimp, and crab, with aromatic spices like paprika and saffron.
It also offers a rich and savory taste that will leave you craving more. Plus, seafood is known for its high nutrient content, including vitamins A and C.
So not only are you satisfying your taste buds with this spicy paella recipe, but you're also giving your body some wholesome goodness!
One-pot Jambalaya
Jambalaya is a stunning Creole dish that combines Cajun cuisine's bold flavors. This one-pot wonder is made with a combination of rice, meat (such as chicken, sausage, or shrimp), and an array of aromatic vegetables and spices like onions, bell peppers, celery, garlic, thyme, paprika, cayenne pepper — giving it its signature heat.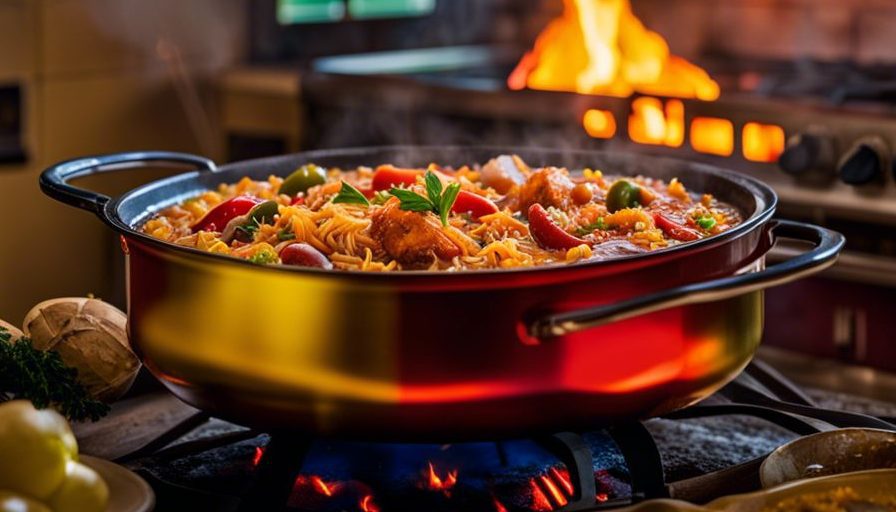 The dish originated in Louisiana and has become popular globally. Because of its hearty ingredients and fiery kick, jambalaya will satisfy your craving for something warm and satisfying on cooler nights.
Easy Spicy Dinner Ideas – Beef Dishes
Slow Cooker Chili Con Carne
Chili Con Carne is a classic spicy beef dish packed with flavor. Chili con carne is usually made with ground beef, tomatoes, beans, and spices like chili powder and cumin. This hearty stew will warm you up on cooler nights.
Easy Spicy Crispy Chili Beef
Crispy Chili Beef combines tender beef strips with a crunchy coating tossed in a flavorful chili sauce. Not only does it offer a bit of heat, but it also offers a satisfying crunch that will leave you craving more.
This dish is easy to make, perfect for weeknight dinners or when you're in the mood for something spicy and satisfying.
Spicy Ground Beef Nachos
Spicy Ground Beef Nachos are a crowd-pleasing dish that combines the heat of chili peppers with the comforting flavors of melted cheese and tortilla chips. So, load your nachos with seasoned ground beef, spicy jalapeño, and tangy salsa. These nachos are perfect for game day or any casual gathering.
Fiery Spaghetti Bolognese
Fiery Spaghetti Bolognese is a spicy twist on the classic Italian dish. This recipe adds heat to the traditional meat sauce by incorporating spicy ingredients like chili flakes or hot sauce.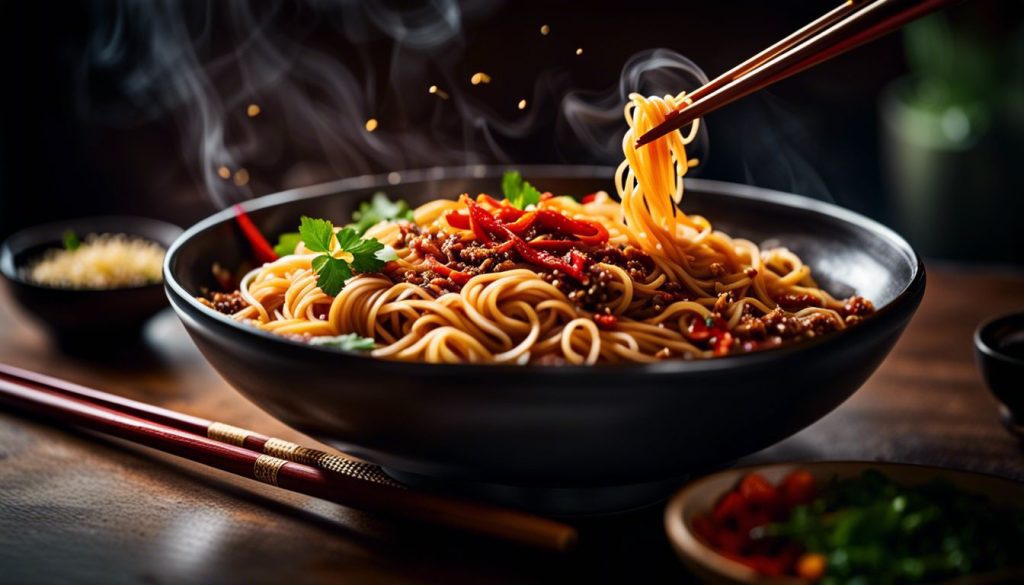 Combining ground beef, tomatoes, onions, and garlic creates a rich and flavorful base for the pasta dish. Why not add a twist to this classic family dish for something a little different?
Easy Spicy Dinner Ideas – Noodle Dishes
Best Spicy Pad Thai
Pad Thai is a popular and fresh spicy noodle dish originating in Thailand. It typically consists of stir-fried rice noodles, scrambled eggs, tofu or shrimp, bean sprouts, green onions, crushed peanuts, and a tangy sauce made from tamarind paste, fish sauce, lime juice, and chili powder.
This delicious dish perfectly balances sweet, sour, salty, and spicy flavors, completely satisfying your taste buds. It makes Pad Thai deliciously well-balanced and highly nutritious as it contains high amounts of vitamins A and C from the fresh ingredients.
For this recipe and a more traditional recipe – go to 'Simple and Authentic Pad Thai Recipe You Can Make at Home'
So if you want to spice up your dinner routine with an easy-to-make yet delicious meal option, try Pad Thai!
Spicy Ramen
Spicy ramen is an increasingly popular noodle dish that will warm your dinner table. A spicy broth infused with various seasonings like chili peppers, garlic, and ginger, this dish will satisfy your cravings for something hot and spicy.
This dish is also customizable, allowing you to add toppings such as sliced pork belly, soft-boiled eggs, green onions, and nori.
So if you're looking for a comforting yet spicy meal option, try spicy ramen!
Easy Spicy Dinner Ideas – Vegetarian Dishes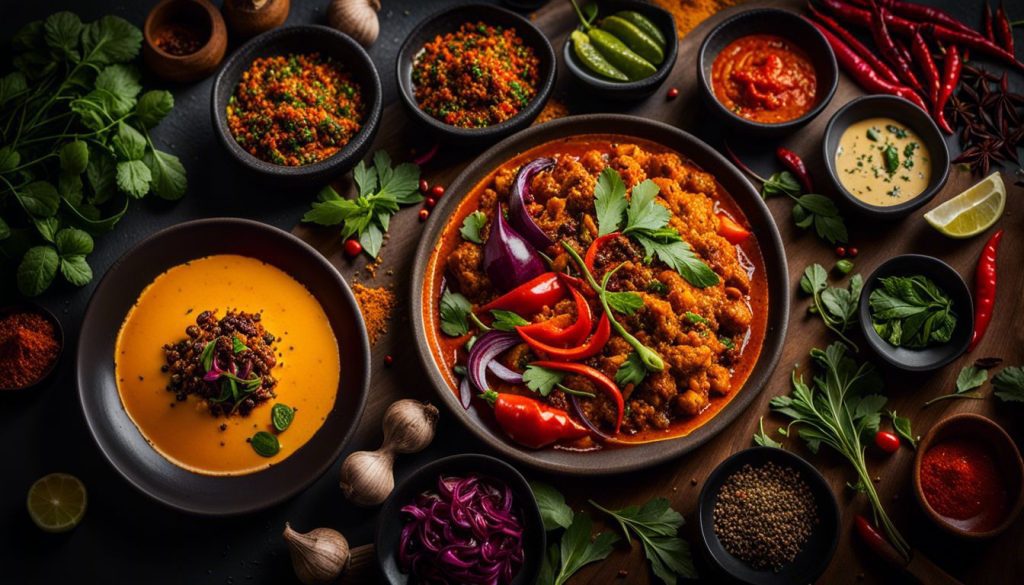 Spicy Broccoli
Spicy broccoli is a zesty and healthy vegetarian dish. Broccoli is rich in nutrients like calcium, vitamins A and C, and adding spice takes it to the next level.
You can make spicy broccoli with garlic, hot chili flakes, or fresh sliced chili and soy sauce for a quick and flavorful stir-fried side dish. It's easy to prepare and pairs well with rice or noodles.
Spicy Red Pepper and Lentil Soup
Spicy Red Pepper and Lentil Soup is an easy weeknight dish that will warm you up on chilly nights. This soup is packed with protein-rich lentils and a combination of aromatic spices, creating a deliciously spicy flavor profile.
It's the perfect option for vegetarians or anyone looking to incorporate more plant-based meals into their diet.
Spicy Mushroom Stir-Fry
Another delicious option for a vegetarian spicy dish is Spicy Mushroom Stir-Fry. This recipe combines the earthy flavors of mushrooms with a kick of spice to create a satisfying and flavorful meal.
Mushrooms also offer numerous health benefits. They are low in calories and fat yet high in vitamins B and D, potassium, and antioxidants.
Adding some heat to the stir-fry can create a dish that will warm up your taste buds while still providing all the goodness of mushrooms.
Easy Spicy Dinner Ideas – Side Dishes and Snacks:
Spicy Corn on the Cob
Spicy Corn on the Cob is a delicious side dish that brings a kick of flavor to any meal. Using fresh corn on the cob, grilled to perfection with a spicy seasoning blend.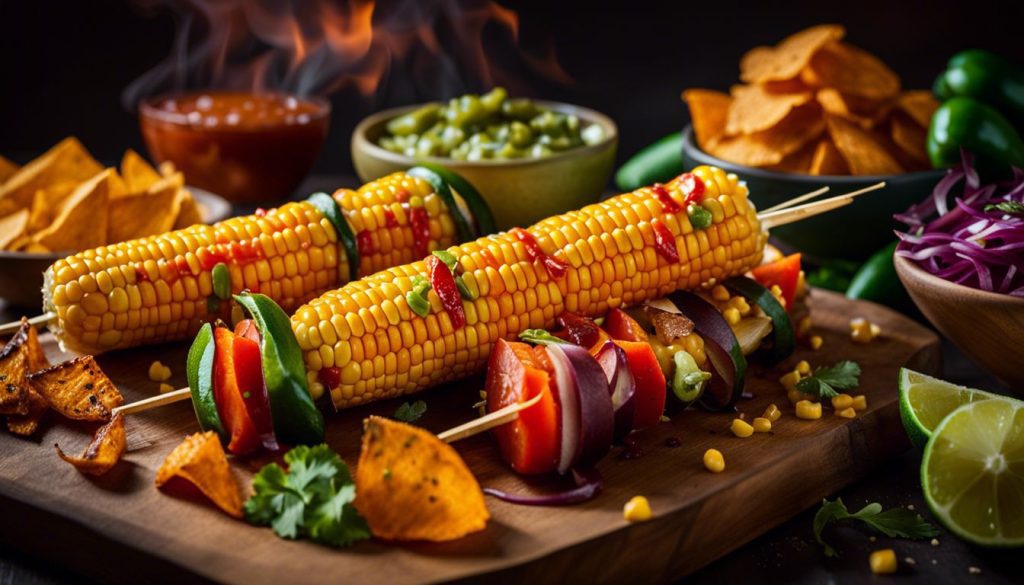 They provide a satisfying crunch and sweetness from the corn. Plus, corn is packed with nutrients like vitamins A and C, making it another healthy addition to your meal.
So fire up the grill and get ready to enjoy this savory and spicy corn on the cob at your next cookout or weeknight dinner!
Spicy Jalapeno Poppers
Jalapeno poppers are a spicy and flavorful appetizer to set your dinner table alight. These delicious bites are made by stuffing fresh jalapenos with a creamy cheese filling, then coating them in breadcrumbs or wrapping them in bacon before frying or baking until they're crispy and golden.
Spicy Baked Sweet Potato Chips
Spicy sweet potato chips are a healthy alternative to regular potato chips. They provide a satisfying crunch with a touch of heat, perfect for those who love spicy flavors.
These chips can be easily made at home by thinly slicing sweet potatoes and tossing them in a mixture of spices like chili powder, cayenne pepper, and paprika. Then, they are baked until crispy and golden brown.
Sweet potatoes are packed with nutrients like fiber, vitamins A and C, making these spicy chips tasty and nutritious. So why settle for plain old potato chips when you can enjoy the bold flavors of spicy sweet potato chips? Give this recipe a try and elevate your snack game!
Conclusion: Easy Spicy Dinner Ideas to Take Your Taste Buds on an Adventure!
Spice up your dinner routine with these deliciously hot and fiery recipes! From Piri Piri Chicken to Spicy Seafood Paella, there's something for everyone who likes a little heat. So, grab your apron and prepare to take your taste buds on a spicy adventure!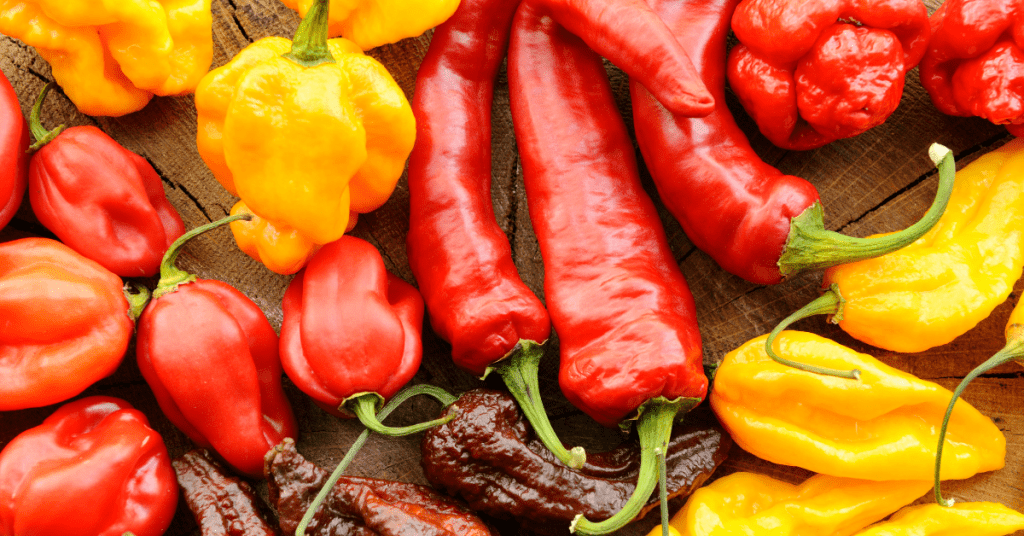 Easy Spicy Dinner Ideas – FAQs
1. Are Spicy Dinner Ideas Suitable for Everyone?
Spicy dinner ideas may not suit everyone, as some people have sensitivities or allergies to certain spices. It is essential to consider your guests or family members' preferences and dietary restrictions before preparing a spicy meal. However, the beauty of home cooking is that you're in control of the spice levels at all times, allowing you to create meals that the whole family will love.
2. How Can I Add Spice to my Dinner Without Making it Too Hot?
If you prefer your dishes slightly spicy, you can add smaller amounts of spices or choose milder varieties, such as smoked paprika or cumin, instead of hotter options like cayenne pepper or chili powder. You can also balance out the heat with ingredients like yogurt, coconut milk, or lime juice.
3. What are Some Popular Easy Spicy Dinner Ideas I Can Explore?
If you're still looking for more ideas, some popular cuisines known for their spicy flavors include Mexican, Thai, Indian, Korean, and Cajun cuisine. These cuisines offer various dishes incorporating different spice levels to suit diverse tastes.
4. Can I Adjust the Spiciness Level in Recipes if I Don't Like Very Spicy Food?
Yes! Most recipes allow for adjustments to the heats level based on personal preference. You can reduce or omit the amount of hot peppers or chili flakes used in a recipe and gradually increase them according to your taste buds' tolerance for heat.