New Hot Sauce!
The Bhut Jolokia, also known as the Ghost Pepper, is a legend in the chilli world. In 2007 it was certified by Guinness World Records as the worlds hottest pepper. That really kicked off the race to create even hotter chillies. Even though the Bhut Jolokia is no longer rated as the worlds hottest chilli pepper, it is no slouch at over 1 million Scoville heat units!
I developed this recipe so that the delicious Bhut Jolokia flavour is dominant, with the other ingredients coming together to compliment the taste and take it to another level! I made sure to use a more subtle vinegar with the White Wine Vinegar, but not too much. Instead, I added some water so that the vinegar wasn't too overwhelming. This is a hot one!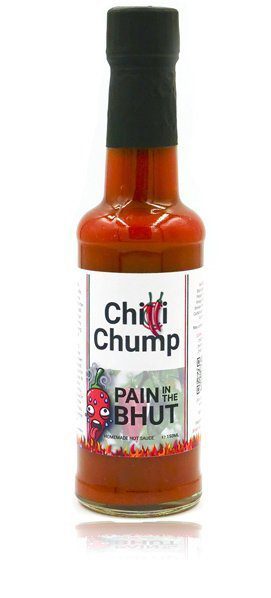 p.s. You may have noticed a new "mascot" on the bottle. I talked about this in my last livestream. This will be what I use in the future to show the heat of my sauce and spice (the facial expression should give an indication)! I am still trying to figure out a name for the little guy, so if you have any good ideas, please get in contact!
Pricing Improvements
I am constantly trying to improve prices, to be fair to you as well as to myself. As I am able to improve efficiency while making my sauces and spices, bottling, labelling etc., I will constantly revise my pricing to reflect this. As a result, I have decided to permanently reduce the price of my Blazing Buffalo eXtreme Hot Sauce by 15%.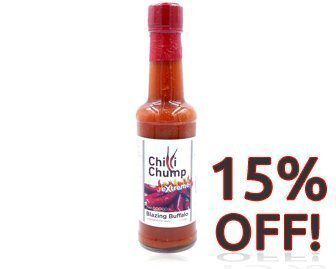 You may have also noticed there are some better prices and options with shipping too! There is now an economy option to the USA, which is similarly priced to shipping to Europe.
A massive thank you
I hope that you and your loved ones are staying safe in these times of turmoil. It can be easy to be overwhelmed by everything that is going on in the world. I try to focus on one positive thing each day, big or small! It may be some new chillies forming from my flowers, or seeing the ladybugs visiting my plants. My positive focus today is how fortunate I am to know all of you, for the support you give me…and that is a big one!
Stay Safe and Stay Spicy!
From ChilliChump and Mrs ChilliChump