This recipe is for Cream Cheese Jalapeno Poppers, a popular appetizer. The jalapeno peppers are halved, filled with a mixture of cream cheese, cheddar cheese, and seasonings, then coated in egg and breadcrumbs. After baking at 400°F (200°C) for 20-25 minutes, the Cream Cheese Jalapeno Poppers become crispy and golden. They are served with a dipping sauce of your choice.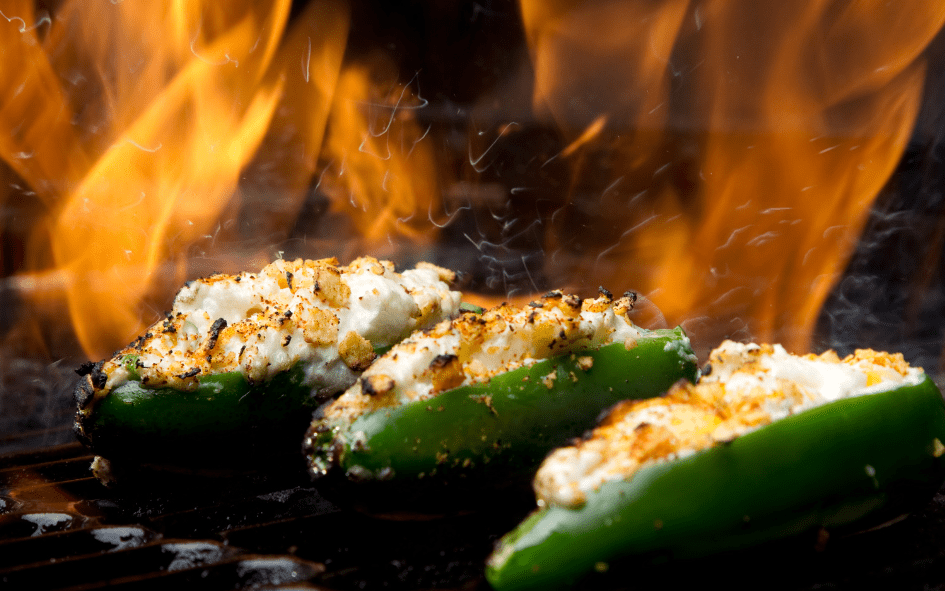 Cream Cheese Jalapeno Poppers
This recipe is for Cream Cheese Jalapeno Poppers, a popular appetizer.
Ingredients
12

Fresh Jalapeno Peppers

green, fresh and firm

225

g

Cream Cheese

softened

1

Cup

Cheddar Cheese

shredded

1

Tsp

Garlic Powder

1/2

Tsp

Onion Powder

Salt & Pepper

to taste

1

Cup

Breadcrumbs

2

Large Eggs

beaten

Cooking Spray
Instructions
Before you get started, preheat your oven to 400°F (200°C).

Line a baking tray with parchment paper.

Cut the jalapeno peppers in half lengthwise. Using a spoon, scrape the inside of the chili pepper to gently remove the seeds and membranes, creating little jalapeno boats. Be cautious while handling the peppers, as they can be spicy. Wear gloves to protect your hands.

Mix your softened cream cheese, shredded cheddar cheese, pepper, salt, garlic powder, and onion powder in a mixing bowl. Mix until well combined.

Fill each jalapeno boat with your cream cheese mixture using a teaspoon.

In one shallow dish, place the beaten eggs. In another shallow dish, place the breadcrumbs.

Dip each stuffed jalapeno half into the beaten eggs, ensuring they are coated evenly.

Then, roll the jalapeno halves in the breadcrumbs to get them to stick to the cream cheese mixture.

Place the coated jalapeno poppers on the prepared baking sheet. Lightly spray the tops of the poppers with cooking spray. This will help them get crispy while baking.

Bake your poppers in a preheated oven for about 20-25 minutes or until they are golden brown and the filling is bubbly.

Allow the jalapeno poppers to cool slightly before serving. They'll be pretty hot right out of the oven.

Serve your Cream Cheese Jalapeno Poppers with ranch dressing, sour cream, or your favorite dipping sauce.
Enjoy your delicious and mildly spicy Cream Cheese Jalapeno Poppers as a delightful appetizer or party snack!
Looking for more inspiration – why not check out this article on Jalapeño Popper Recipes: Spice Up Your Snack Game – inc Jalapeno Poppers with Bacon, Stuffed Jalapeno Popper Recipes.
Or if you want other Jalapeno recipes here are a few to tickle your tastebuds:
Find out more about the Jalapeno. Or purchase seeds to grow your own Jalapenos.